Showcase Tapani Winter Storm – Finland
25 Dicember 2011 / Finland
In the late evening of 25th of December 2011 a winter storm named Tapani hit Finland. Extreme wind gusts of over 100 km/h caused widespread damage in the southwestern part of the country. Tapani was followed by another stormy low pressure on the 27th of December resulting in severe damage to forests, electricity distribution network and all major transport modes during three consecutive days.
At worst, over 200 000 households were left without electricity, causing a 40 million euro monetary compensation for electricity distribution companies to their customers. The repair costs of the electricity lines were approximately 30 million euros. More than 600 buildings were damaged to some extent, and insurance companies paid about 100 million euros worth of compensation. The storm also caused one casualty as a man was hit by a falling tree during damage clearance work.
The Christmas period was the warmest in 50 years which did not allow soil to freeze, thus, trees were poorly anchored and exposed to major storm damage. Tapani storm devastated 3.5 million cubic meters of forest, worth of 120 million euros. Direct losses to forest owners were estimated to be 25-30 million euros.
The locations of the weather-related rescue operations (25 Dec 2011 – 28 Dec 2011).
(Source: Ministry of Interior; PRONTO database)
Fallen trees and other wind damage kept civil defence authorities busy throughout the whole incident. They received more than 5 000 weather-related emergency calls which was the highest amount since the November 2001 severe winter storm. Rescue operations were locally challenged by poor mobile network connectivity and unavailability of the authority mobile network. Christmastime road and railway traffic was also severely affected and several railway lines were blocked by fallen trees and powerlines.
Finnish Meteorological Institute issued a heads-up notification about the approaching storm for civil defence authorities four days before the incident. Just before the onset of the windiest 12 hour period FMI issued a red-level wind warning for the southwestern provinces. At the same time the general public was given an emergency bulletin which was aired via the national broadcasting company.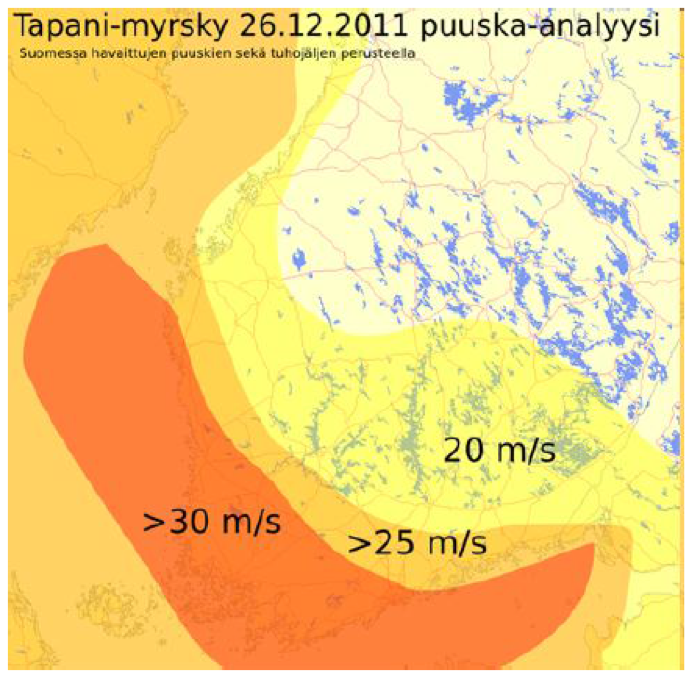 Estimated maximum wind gust during Tapani storm.
(Source: Finnish Meteorological Institute)
Available data and expected uses of data